Free Photo Enhancements
with Every Order

Our imaging experts can improve your photo by adjusting the brightness and contrast.

We can make sure the subject of your photo stands out as the main focus.

We can also manually optimize your photo to remove odd tints and increase color richness.
What Does My Kit Include?

365-Day Money Back Guarantee

Lifetime Diamond Spill Insurance

Diamonds in Labeled Zip Bags
How to Paint with Diamonds

Remove the canvas and materials from their package. Lay your canvas out flat with materials nearby.

Reference the color-coded chart and each of the color diamonds they correspond to.

Apply each diamond to the adhesive canvas template, placing it based on the color-coded chart
Hundreds of Happy Customers

"I love PNC! They have helped me with a number of customs I have had made and they always try to get the best price and size for me. The people who work in customer service are always polite and very helpful. I can not recommend PNC enough!"

– Kathy Wilkins

"The design was very clearly marked on the canvas. The diamond drills were high quality and plentiful. The finished design turned out beautiful. PNC has always been my go-to vendor for high quality diamond painting designs."

– Cara Washington
"PNC is my go to company for ALL of my custom paintings. The quality is the best! Staff helps with colors and photo quality BEFORE ITS PRINTED! Love this company!"

– Donna Chapon
Let customers speak for us
Why Pretty Neat Creative?
Damage- and Weather-Proof Packaging

365-Day Guarantee + Lifetime Spill Insurance

Free Photo Enhancement with Every Order
How Do I Chose a Great Photo?
While your image may look great on your computer of phone, that doesn't mean it will look great as a diamond painting. We will provide you with free photo enhancements when necessary, but it's always best to start with a great photo. When in doubt, just send us a note and we'll help you out.
Please consider the following for your photos:
High Resolution
Make sure the image isn't blurry when you zoom in — especially around the eyes and areas with small details. Try to choose a photo that is at least 1000 pixels wide. The more pixels your photo has, the more detailed it will be.
Note: blurry or low-quality photos are hard to fix and will not look great as a diamond painting.
Colors and Contrast
See that you photo has nice, rich colors — not faded. For example, red areas should look red, not pink, and black areas should look black, not gray.
Also be sure your photo has good contrast between the light areas and dark areas. If the colors and shades are too similar, your final result won't look great.
Composition
A clear and simple composition will usually make a better diamond painting. This means having a clear subject, and a background that's not too busy.
If you're new to diamond painting, this will also help keep the difficulty lower. A busy photo with tons of colors will be more challenging and time-consuming for you.
The canvas size you choose plays helps determine how your diamond painting will look. For example, a realistic photo (such as a person's face or a pet) will need a larger canvas to show enough detail to look nice.
Also be aware of the aspect ratio.If you upload a rectangular photo and choose 12"x12", then we will have to crop your photo. Feel free to ask us for advice before placing your order.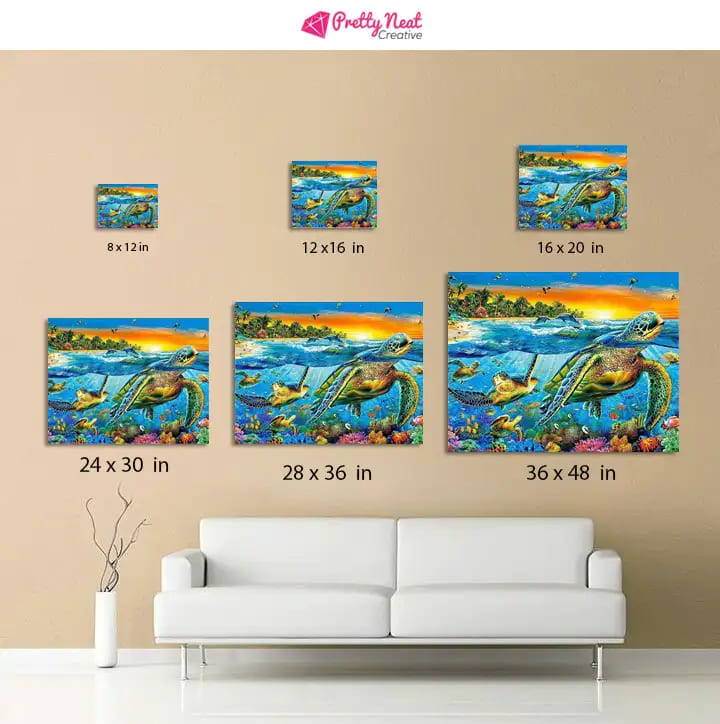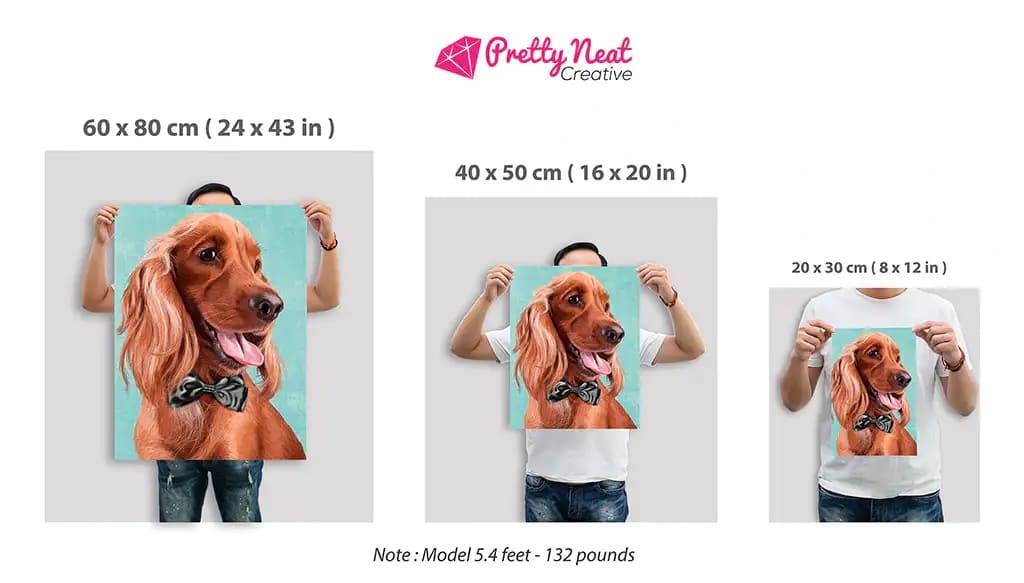 Square or Round Diamonds?
If you want a quicker process with extra sparkle → go round.
If you want more of a challenge and exceptional detail → go square.

Round diamonds:
● Give extra sparkle
● Are easier to place on the canvas
● Will allow you to finish your painting faster

Square diamonds:
● Are more challenging
● Give your painting more detail
● Give you a nice "snap" satisfaction when placed

Many people prefer using round diamonds because they do not require much precision and skill, and it takes less time to finish the project. Square diamonds are a challenge because they have to be placed perfectly straight without leaving any gaps.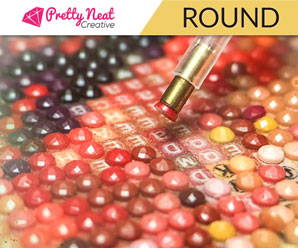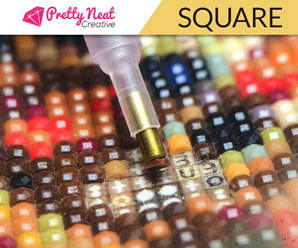 Get it now, pay over time with Shop Pay.
For orders over $50, select installments at checkout to split your purchase into 4 interest-free payments.
No impact on your credit score.
Payment options are offered by Affirm and are subject to eligibility check and might not be available in all states. CA Residents: Loans by Affirm Loan Services, LLC are made or arranged pursuant to a California Finance Lender license.

Installments in partnership with